Mariposa Sheriff's Office: Two Missing During Storms Presumed Dead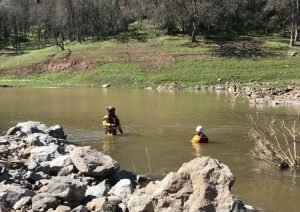 Search in Mariposa County

View Photos
Mariposa, CA — The Mariposa County Sheriff's Office is now scaling down its search for two people that went missing Thursday during the heavy rains and flooding.
72-year-old Carol Brown left her home in Catheys Valley to check on horses at around 5pm and when she did not return after a half an hour, her husband went looking for her, and found their utility vehicle laying on its side in a nearby creek. The seasonal creek is typically 4 ft. wide, but it expanded to 150 ft. at its peak flooding stage. The waterway continues to the Bear Creek Reservoir about 10 miles away. Searchers did locate what they believe is the jacket she was wearing at the time, but nothing else.
The other missing person, 67-year-old John Honesto of Don Pedro, did not return home Thursday from a substitute teaching job at the Coulterville/Greeley Hill School. His normal route is along Highway 132, where a large washout occurred during the storm. His vehicle was located Thursday evening about a mile downstream from the washout, but he was not inside.
The Mariposa County Sheriff's Office reports that both people are presumed dead, and the search will be scaled down today. 12 agencies have been assisting with the efforts, including the Tuolumne County Search and Rescue Team.