Caltrans Shares Storm Damage Work Plans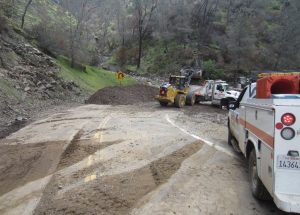 Caltrans Making Highway Repairs

View Photos
Sonora, CA — In the aftermath of this past week's heavy storms Caltrans crews are working to repair road damage; some of it extreme enough to require full closures while roadway portions are restored.
Currently, Caltrans has closed a 36-mile stretch of Highway 49 between Moccasin Creek at the junction with Highway 120 and Bear Valley Road while repairs are being made. The closure is expected to be long-term, probably until early May due to severe erosion from massive storm water impacts that require laying a new foundation. Motorists should plan for detour delays of up to an hour until the restoration is complete.
Also closed for repairs is Highway 132 for approximately half a mile between Granite Springs and Piney Creek roads. Again, due to washout damage the repairs are expected to take several weeks. Travel time impacts in that area are estimated to be about 15 minutes. Caltrans crews will also be working under one-way traffic controls between Bonds Flat Road and Granite Springs Road tomorrow through Friday from 7:30 a.m. until 9 p.m., which may wreak similar delays.
Other added work scope this week includes sweeping operations under moving lane closures in two spots: tomorrow and Wednesday on Highway 108 between Highway 120/Yosemite Junction and Hidden Acres Road; also Wednesday through Friday on Highway 49 between Highway 120/North Chinese Camp and New Melones Reservoir. Hours for both work zones are slated from 8:30 a.m. until 3:30 p.m. during which travel delays may run up to ten minutes at a time.
For the rest of this week's Caltrans cone zone roundup, click here.