Work Continues To Fully Restore Lake Don Pedro CSD Water Service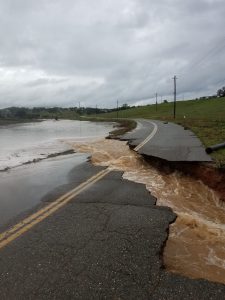 Washed out road and main on Laredo Street

View Photos
Lake Don Pedro, CA — The Lake Don Pedro Community Services District is still working to restore service to those who went without following last week's storm system.
As reported earlier, the flooding on Thursday washed out roads, and in turn, water main infrastructure. Over the weekend the district began filling with water the dozens of miles of empty pipe and two dozen tanks. The crews have been purging air from the system and preparing to flush the water lines.
Once the water returns to the homes, the district says it can be used for all purposes other than drinking or cooking until the all-clear is given. The district is required to perform two rounds of bacteriological testing, 24 hours apart, with good results, before it is declared ok to drink. The district is also working to secure additional bottled water for customers without service.
For those who did not lose water during the event, it remains safe to drink.
The Mariposa County Sheriff's Office has set up "comfort stations" in the Lake Don Pedro community that include two portable toilet facilities with hand washing stations. They are on Golfito Way, Carrillo Way, Banderilla Street and Vista Verda Circle.
We'll pass along more information when it becomes available.