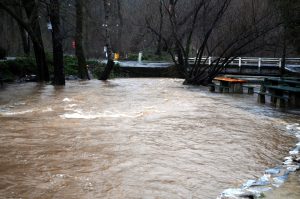 Murphys Creek at Algiers St. (File Photo)

View Photos
The National Weather Service has issued a Flood Advisory for southwestern Tuolumne County until 3:00 PM.
At 11:54 AM PDT, Doppler radar indicated heavy rain due to thunderstorms. This will cause minor flooding in the Advisory area. Up to one inch of rain has already fallen.
Additional rainfall is expected over the area through the afternoon and into the early evening.
Thunderstorms could bring locally very heavy rainfall and increase the threat of flooding.
The National Weather Service has also issued an Urban and Small Stream Flood Advisory for southwestern Tuolumne County and all of Calaveras County until 5:15 PM.
Numerous flooded roadways and local streams have been reported, including mudslides and downed trees on roadways. Overflowing poor drainage areas continue to result in minor flooding in the Advisory area.
Some locations that will continue to experience flooding include Sonora and San Andreas.
Additionally, the National Weather Service has issued an Urban and Small Stream Flood Advisory for western Tuolumne County until 2:00 PM.
Some locations that will experience flooding include East Sonora, La Grange, Jupiter, Keystone, Long Barn, Chinese Camp, Phoenix Lake-Cedar Ridge, Mi-Wuk Village, Twain Harte, Groveland- Big Oak Flat, Mono Vista, Jamestown, Tuolumne City, Soulsbyville and Columbia.
In hilly terrain there are hundreds of low water crossings which are potentially dangerous in heavy rain. Do not attempt to cross flooded roads. Find an alternate route. Please report flooding to your local law enforcement agency when you can do so safely.
The "Atmospheric River" continues to bring substantial rain to the foothills and mountains below 8,000 feet.
Because of that, a Flash Flood Watch remains in effect for the entire Mother Lode until 11 PM this evening.
And a Flash Flood Watch has also been issued by the National Weather Service for the Sierra Nevada through 8 PM tonight.
Heavy rainfall, in addition to snow melt, is creating excess runoff and bringing the threat of localized flash flooding, mud slides, rock slides and debris flows.
The severely burned areas are of particular concern. These areas are no longer able to absorb any rainfall, leading to enhanced runoff.
Rainfall rates could exceed one half inch per hour at times during the storm.
This could quickly become a dangerous situation. Hunters, residents and persons traveling in and around the burn areas should remain alert and take action should heavy rain develop.
Some roads may become impassable or become washed out.
Turn around, don`t drown when encountering flooded roads. Most flood deaths occur in vehicles. Excessive runoff from heavy rainfall will cause flooding of small creeks and streams, urban areas, highways, streets and underpasses as well as other drainage areas and low lying spots.
The National Weather Service has also issued a Winter Storm Warning for the Sierra Nevada above 6,500 feet until 11 PM tonight.
Additional snow accumulations will range from several inches to twenty-five inches above the 6,500 feet elevation.
Plan on difficult travel conditions. Damage to trees and power lines is possible. Significant reductions in visibility is likely.
The series of wet storms will continue to sweep through California into the weekend.
A colder system with lower snow levels and even heavier snow will drop over the region from Friday afternoon into the weekend.
A Winter Storm Watch has been issued for the Sierra Nevada above 3,000 feet from Friday afternoon through late Saturday night.
An additional fourteen to twenty-eight inches of snow is expected from Friday through Saturday.
A Flood Advisory means river or stream flows are elevated, or ponding of water in urban or other areas is occurring or is imminent.
A Flash Flood Watch means that conditions may develop that lead to flash flooding. Flash flooding is a VERY DANGEROUS SITUATION. You should be prepared to take action should Flash Flood Warnings be issued.
A Winter Storm Warning for snow means severe winter weather conditions will make travel very hazardous or impossible. If you must travel, keep an extra flashlight, food and water in your vehicle in case of an emergency.
A Winter Storm Watch means there is potential for significant snow, sleet or ice accumulations that may impact travel.