Update: More Roadway Flooding And Mudslides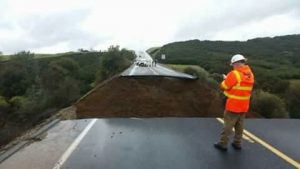 Coulterville
Update at 7:15 p.m.: The CHP is reporting that Ferretti Road at the Pine Mountain Drive intersection is closed due to a sink hole. A washed out section of Highway 120 near Piney Creek Road, west of Coulterville in Mariposa County, has the roadway shut down. A picture of the sink hole is in the image box.
Additionally, El Portal Road (Highway 140) inside Yosemite National Park is closed at Parkline and the El Portal Road/Big Oak Flat Road Junction due to a rockfall. The heavy rains caused rocks, dirt and debris to fall in the roadway approximately 1/4 mile east of the park boundary in El Portal. It will remain closed overnight with crews assessing the roads condition first thing Friday morning, according to park officials. Further details on Tuolumne County road conditions are below.
Update at 4:45 p.m.: The CHP reports that Highway 120 near Black Road in Big Oak Flat has reopened to traffic.
Update at 4:30pm: Caltrans reports that Highway 108 is closed between Pinecrest and Strawberry due to flooding.
Update at 4:10pm: The Tuolumne County Roads Department states that Kewin Mill Road is now back open.
Update at 3:45pm: The Tuolumne County Community Resources Agency reports that, as of 3:40pm, the following roads are closed in the county due to flooding:
Phoenix Lake Road is closed between Bellview Creek Road and Paseo de los Portales (access still available to Phoenix Lake Estates), Old Priest Grade, Crystal Falls Drive West, Kewin Mill Road at Belleview Elementary School, Red Hills Road, Sims Road, Bell Mooney Road, Power House Road, Ferretti Road and Cedar Springs Road (near Twain Harte). In addition, one lane of J-59 is closed.
Also, Priest Coulterville Road has significant damage and will be closed for an extended period of time.
Highway 120 is closed at Highway 49. There is no access between Groveland and Sonora. The Tuolumne County Office of Emergency Services is in the process of setting up an emergency shelter.
Update at 2:45 p.m.: The CHP is reporting a road closure due to the roadway washing away along Highway 120 and Black Road in Big Oak Flat
Update at 2:05pm: Old Priest Grade is currently closed. The CHP is also reporting that just outside of Groveland a loose propane tank floating along the highway hit a vehicle just before 2 p.m. and the incident is completely blocking Highway 120 near Deer Flat Road.
Also, the area of Lyons Bald Mountain Road by Villas Lane is currently a traffic hazard because the latter road, which is the route to the powerhouse, has washed out.
Clarke Broadcasting thanks news partners TCSO and Kelley Quinn for sharing images. Send photos and video to news@clarkebroadcasting.com.
Update at 1:15 p.m.: Here are some of the latest road hazards in the Mother Lode according to the CHP.
Highway 132 near Bond Flat Road the roadway is heavily flooded with a lot of debris in the roadway. In the Twain Harte area, along Longeway Road near Lucky Strike Trail, there is flooding making the roadway impassable. A section of Cedar Springs Road near Tuolumne Road North is closed due to flooding as well. Kewin Mill Road near Big Hill is closed. High waters have also blocked a section of Old Highway 120. A mud, dirt and rock slide is blocking the area of  9001 Priest Coulterville Road in the Moccasin area. Further road conditions can be found below.
Update at 1:01 p.m.: Tuolumne County sheriff's officials report that Paseo De Los Portales near Phoenix Lake Country Club and golf course is closed due to flooding.
Update at 12:40pm: The Tuolumne County Sheriff's Office reports that those traveling on Highway 108 at Old Wards Ferry Road should use an alternate route due to water on the roadway. North and southbound Highway 49 at Rawhide Junction is also currently blocked due to flooding.
As reported in our schools closure story, Phoenix Lake Road closed between Bellview Estates and Phoenix Lake Estates for a downed power line.
Update at 11:30am: Many roads are a mess in the Mother Lode due to the heavy rain.
An ambulance is responding to a traffic accident on Highway 49 near Rawhide Road. Be prepared for activity. There is a rockslide on Tuolumne Road near the Mono Way intersection. The CHP reports that a vehicle has become stuck in one of the traffic lanes. There is roadway flooding on Highway 108 near Old Wards Ferry Road. Debris and heavy water is reported in the 20000 block of Phoenix Lake Road. There is also heavy water reported across both traffic lanes of J-59 near Old Don Pedro Road. Other areas reportedly having flooding issues include the 14000 block of Jacksonville Road, Shaws Flat Road near Mt. Brow Road, Highway 108 near Hess Avenue, Phoenix Lake Road near Bellview Creek Road, and Highway 108 near Main Street in Jamestown.
Original story posted at 6:45am: Sonora, CA — The heavy rainfall is leaving behind some traffic hazards in the Mother Lode this morning.
The CHP reports that one lane of Highway 49 in Tuolumne County, near Fraguero Road, is flooded. Also, a fallen tree is blocking one lane of Kewin Mill Road near Big Hill Road. The county roads department has been requested to assist. There is also some flooding reported on Jacksonville Road near Bell Mooney Road. There is a tree blocking Smith Station Road near Greeley Hill Road, and the Mariposa County Roads department has been notified. In Calaveras County, there is a mudslide reported on Murphys Grade Road near the intersection of French Gulch Road.
Travel with caution today, and allow yourself extra time, as the rain is expected to continue. Click here to view the latest information from the National Weather Service.