Jumping In To Compete For Scholarships and Titles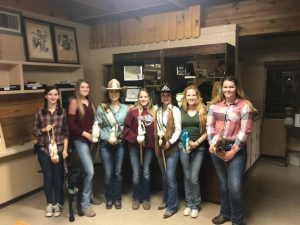 Saddle Queen Scholarship Contestants (From Left to Right: Katherine Sharp, Emily Bolton, Melissa Esperanza, Pearl Rollings, Morgan Danfelt, Savannah Clopton and Kari Farwell) Those with hats on are past winners.

View Photos
Angels Camp, CA – The new contestants for the Calaveras Saddle Queen and Miss Calaveras Scholarship Pageant have been named for the 2018 Calaveras County Fair & Jumping Frog Jubilee
Five young women, shown in the image box, will show off their horsemanship skills, write and give a speech on community service along with detailing their knowledge of the fair and local history, all to garner the title of Calaveras Saddle Queen. Fair officials report the competing is already under way for contestants, Katherine Sharp, Emily Bolton, Pearl Rollings, Savanna Clopton and Kari Farwell.
The Saddle Queen contestants will work with those vying for the title of Miss Calaveras as both groups are ambassadors for the fair. Participants of the scholarship pageant attend several community events during the crowning competition. Part of their scoring includes an interview with the judge's panel, which are all selected from outside the area. This year's contestants are Briana Wagner, Destinee Berry, Summer Hamari and Ava Mosely, featured in an image box picture.
Below is the scholarship breakdown for each contest:
1st Place = $1,000
2nd Place = $600
3rd Place = S300
There are also five $100 and one $250 scholarships awarded to the contestants.
Both events are highlights of the fair and this year takes place on May 17, the first day of the fair, which runs through the 20th. Click here for more information and schedules.