Deputies Arrest Fleeing Domestic Violence Suspect On Hwy 4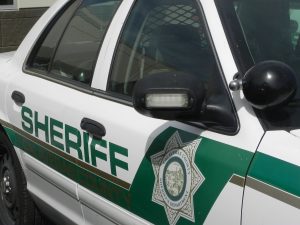 Calaveras County Sheriff

View Photos
San Andreas, CA — A Monday morning disturbance call wound up with a traffic stop arrest on Highway 4 for domestic violence, according to Calaveras County sheriff's officials.
Spokesperson Sgt. Rachelle Whiting reports deputies initially responded around 9:20 a.m. to an Avery mobile home park on Highway 4. A 27-year-old female victim recounted that, during an argument with 27-year-old Dakota Serva of Avery, he threw and broke her cellphone to prevent her from calling law enforcement, prevented her from leaving and also pushed her against a wall.
Although Serva left prior to deputies' arrival, he was recognized by law enforcement while driving on Highway 4 near Pool Station Road a couple of hours later and pulled over. He was subsequently arrested on several charges: felony false imprisonment with violence; misdemeanor domestic battery and damaging a wireless communication device to prevent notification to law enforcement. He was also cited for driving on a suspended license, no proof of insurance and driving an unregistered vehicle.