Calaveras Town Hall Meeting To Focus On School Safety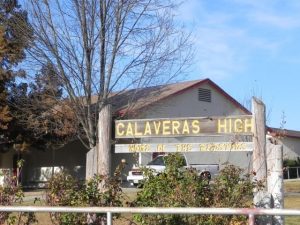 Calaveras High School

View Photos
San Andreas, CA — Education officials, the sheriff, and a behavioral health leader will speak at a forum Thursday evening in San Andreas.
The Town Hall meeting on "school safety and violence prevention" will begin at 5pm at the Calaveras High School Performing Arts Center at 350 High School Street. The panel of speakers will be Sheriff Rick DiBasilio, Calaveras Unified School District Superintendent Mark Campbell, Calaveras County Superintendent of Schools Scott Nanik and Behavioral and Mental Health Deputy Director David Sackman.
Dibasilio adds, "We're going to talk about how the county, the school district, and sheriff's office are working together to keep the kids safe in our community, and our schools. We're going to talk about active shooter programs, things like 'stranger danger', if you want to call it that, and how we're working together as a whole unit."
Sheriff's deputies were recently involved in an incident involving a gun related threat on the Calaveras High campus. Click here to read an earlier story.
Those in attendance will learn about current local strategies, have a chance to ask questions, and build focus groups aimed at helping kids. The meeting is open to the public.
DiBasilio adds that a similar type meeting is tentatively being planned for Angels Camp at a to-be-determined date in the future.