Gun Scare At Calaveras High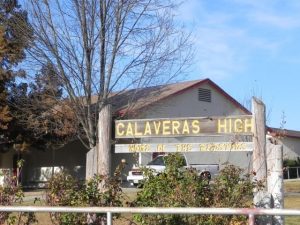 Calaveras High School

View Photos
San Andreas, CA – Calaveras County Sheriff's Deputies responded to the Calaveras High campus in San Andreas after a 15-year-old male student was heard talking about bringing a firearm to the school during a lock down drill discussion Tuesday.
In two instances, the student was overheard making statements similar to "I guess I better not bring a gun that day," according to investigators. His words were relayed to school administrators, who alerted the sheriff's department. The student was arrested for making criminal threats. He was taken to juvenile probation and his parents were notified.
During the investigation, deputies determined that there were no specific expressed threats made and that the student had no weapons. Even so, Sheriff's spokesperson Rachelle Whiting emphasizes, "We're taking every complaint, every possible threat, any mention of a gun; we're taking it seriously. Even if kids are saying things as a joke, they need to realize it's going to be taken seriously and there are going to be serious consequences."
Whiting notes that criminal threats can be as serious as a felony, stating, "At the very least, he and his parents will have a follow up meeting with a probation officer and possibly face follow up court appearances." She adds that the sheriff's department is committed to completing full and immediate investigations whenever threats and/or weapons are reported at local schools.