Update: Fire Burns Rosalinda's Gentlemen's Club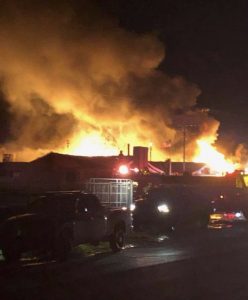 Fire at Rosalinda's Gentlemen's Club
Updated at 9:40am: An investigation continues into what ignited a fire shortly after 3am at the Rosalinda's Gentlemen's Club and adjacent motel on Highway 108.
The Tuolumne County Sheriff's Office says the fire originated in the motel and spread to the strip club. Clarke Broadcasting was notified by a community news partner driving by the scene early this morning that there was a man receiving considerable law enforcement attention shortly after the fire started.
CHP Officer Faustino Pulido confirms that one person was located nearby, about ½ mile west of the business, and questioned by CHP officers, along with the Tuolumne County Sheriff's Office, but the man was not arrested.
CAL Fire spokesperson Emily Kilgore notes that the cause of the fire is still "under investigation."
Original story posted at 7am: Jamestown, CA — Fire early this morning caused extensive damage to the Rosalinda's Gentlemen's Club on Highway 108 and the adjacent hotel.
The Tuolumne County Sheriff's Office reports that the fire ignited at around 3:30am in the hotel area and it was fully engulfed in flames when CAL Fire arrived on scene. The flames then spread to the strip club, causing major damage. What ignited the fire is under investigation. The business was condemned following a law enforcement raid on March 1 where 10 people were taken into custody. We'll pass along more information when it becomes available.
Click on the video box to see what it looked like driving by early this morning. A second video of the incident recorded by Anderson Ink is here.