10 Arrests Following Raid At Rosalinda's Gentlemen's Club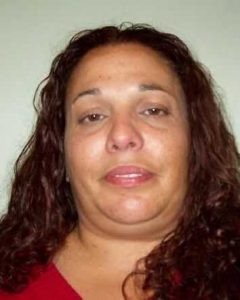 Marlinda Beth Russo

View Photos
Jamestown, CA — 10 people were taken to Tuolumne County Jail following a raid at Rosalinda's Gentlemen's Club on Highway 108 yesterday.
The owner of the business, Rosalinda Aponte Sanmartin, was not at the business and is still being sought. Sanmartin is facing felony charges of maintaining and operating a drug house. Sanmartin's daughter, Marlinda Beth Russo arrived at the scene during the investigation and was arrested for operating a drug house.  Several other people were located at the business, with a total of 10 arrests. In addition, there were health and building code violations that will be followed up on. The Tuolumne County Sheriff's Office was assisted by several agencies, and the raid was led by the Tuolumne Narcotics Team.  The investigation was launched last year after numerous complaints and violations were made, including over 50 calls in 2017 and nearly 200 calls generated over the past five years. The sheriff's office reports some were related to serious crimes including a stabbing and alleged rape.
Click here to view a story on the raid from yesterday.
Other arrests:
Sabrina Carol Wood, DOB 12/28/90, arrested for felony Stanislaus County warrant and fresh felony drug charges
Mildred Lucille Kessler, DOB 12/13/63, arrested for misd. Tuolumne County warrant
Daniel Joel Callahan, DOB 4/30/91 arrested for 2 felony and 1 misd. Stanislaus County warrant
Michael Laszlo Streib, DOB 11/18/63 arrested for misd. Tuolumne County warrant
Beatrice Lee Ramos, DOB 8/12/69 arrested for misd. Rancho Cucamonga warrant
Jaime Christine Wilcox, DOB 8/15/76 arrested for fresh misd. and felony drug charges
Breanna Noel Gallegos, DOB 12/29/95 arrested for fresh misd. drug charges
Raymond Jeffrey Bowman, DOB 11/11/62 arrested for fresh misd. and felony drug charges
Richard Lewis Bennett, DOB 4/6/64 arrested for fresh misd. drug charges