Sonora Man Charged With Domestic Battery, Death Threats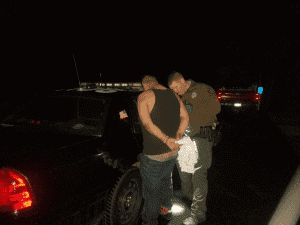 Aglibot Arrest Feb 26 2018

View Photos
Sonora, CA — A local man was picked up and charged with three felonies last night following a domestic incident during which he allegedly threatened to kill his victim.
According to Tuolumne County Sheriff's spokesperson Sgt. Andrea Benson, her office received a report around 7:30 p.m. of a man and woman heard arguing in an apartment about a gun in the 13000 block of Beckwith Road in Sonora. Arriving deputies contacted 18-year-old Anthony Aglibot and learned that during a domestic dispute he allegedly choked a female victim and also threatened to shoot her.
Deputies reported that the victim suffered pain to her neck from being choked and noted that there were several children in the home who Aglibot would not allow to leave. During a search of the suspect's vehicle a handgun was located.
Aglibot was subsequently arrested and booked into the Tuolumne County Jail on three felony counts of making criminal threats, false imprisonment with violence and domestic battery. He was assigned a $35,000 bail.