Oak Valley Community Bank Branch Plans March Move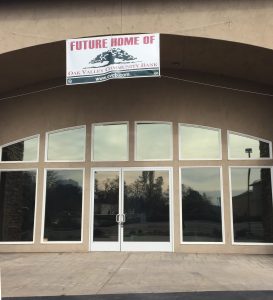 New Location of Oak Valley Community Bank East Sonora Branch

View Photos
Sonora, CA — Relocation plans are in the works for a Mother Lode bank that will shortly be shuffling its services to a more prominent location in East Sonora.
Officials at Oak Valley Community Bank say they are moving its existing full-service East Sonora branch office, located at 14580 Mono Way, to a new address at 14890 Mono Way, which is the former site occupied by Sonora Subaru. The new full-service branch will open its doors March 26.
The new facility will offer improved access and parking in addition to more lobby and safe deposit box space, according to bank spokesperson Bill Nunes, who adds that personal and commercial services will include a walk-up ATM and night deposit service. Business hours will remain the same: Monday through Thursday from 9 a.m. until 5 p.m.; Friday until 6 p.m.
"Sonora has been a really great market for us — we are now Number Three in terms of deposit market-share in Sonora," Nunes enthuses. "As everybody knows, a couple of years ago we acquired Mother Lode Bank and the former customers have been great…a very loyal group…we have been able to retain most of those folks. But the combining of the two banks…puts a certain demand on the two branches that we have there and we really felt we were outgrowing the space that we have."
Nunes shares that the bank's large local staff will be very happy for the additional space to move around in and do business. Besides Sierra Region Manager Lyn Wilson, personnel includes East Sonora Branch Manager Michelle Ferguson, New Accounts Representative Linda Eskandary and a team of customer service representatives.
Asked what else might currently be in the works, expansion-wise, Nunes confides that the bank is always doing homework and research ahead of growth plans — and in fact, recently opened a loan production office in Sacramento. As he puts it, "It is just a small office…not a full-service branch. But we continue to look for opportunities to expand the bank — not only our services but our service area — and we continue to look to adjacent counties and other markets that may make sense for the bank to move into."
Oak Valley Community Bank and Eastern Sierra Community Bank are operated by parent company Oak Valley Bancorp. Along with two Sonora branches and Sacramento loan production office it oversees three Modesto branches and locations in Oakdale, Turlock, Stockton, Patterson, Ripon, Escalon, Manteca, and Tracy. Through its Eastern Sierra Division, the bank does business at offices located in Bridgeport, Mammoth Lakes and Bishop.