Mother Lode Assemblymember Blasting State Water Officials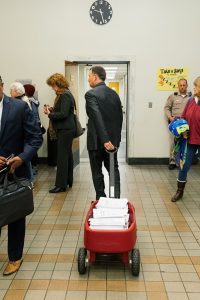 Wagon with petitions delivered to California Water Commission hearing

View Photos
Sacramento, CA – Mother Lode Republican Assemblymember Frank Bigelow is blaming the California Water Commission for failing to approve water storage projects in the state.
Republican members of the California Legislature this week delivered a wagon-load of more than 4,000 petitions signed by residents across the state to the commission calling for the immediate approval of funding for the Sites Reservoir in Colusa County and Temperance Flat Reservoir, northeast of Fresno.
"The lack of urgency from bureaucrats at the water commission is putting Californians' livelihoods in danger," said Assemblyman Frank Bigelow (R-O'Neals), "If we are hit with another drought, the commission will be responsible."
Bigelow indicates that in 2014, Californians approved Proposition 1, a water bond that included $2.7 billion for investments in new reservoirs, which tasked the commission with allocating those funds. He criticized the commission for rejecting all proposals stating that the reason given was that none met the requirements laid out in Proposition 1 to deserve funding.
In a recent op-ed Bigelow stated, "Voters expected billions of gallons of water to be added to our surface storage system. Sadly, with a dry start to winter and another drought looming, the state hasn't spent a dime on the new storage it promised."
Republicans argue that if built, the Temperance Flat Reservoir could hold 423 billion gallons of water and the Sites could hold 586 billion gallons.