Adventist Health Sonora President-CEO Promoted To Regional Role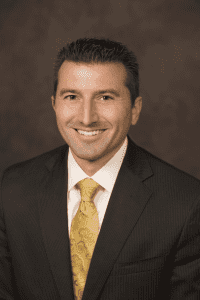 Adventist Health Southern Calif. Regional President Andrew Jahn

View Photos
Sonora, CA — Adventist Health officials today announce the head of Adventist Health Sonora will be taking on a larger role within the faith-based, nonprofit integrated health system that covers more than 75 communities in California, Oregon and Hawaii.
Officials say that President and CEO Andrew Jahn was chosen to lead the Adventist Health Southern California Region and will assume his new duties as president at the end of the month, reporting directly to Adventist Health President Bill Wing. In tandem a plan is getting underway to name a successor.
Before being promoted to president and CEO of the Sonora hospital and affiliated clinics four years ago, Jahn served as CFO for about two and a half years. Ahead of that he held key positions such as director of finance at Shawnee Mission Medical Center in Kansas City, Kansas, and assistant to the CFO of Florida Hospital in Orlando, Florida. Due to his new responsibilities, which include overseeing operations of Adventist Health's Glendale, Los Angeles and Simi Valley facilities, Jahn and his family will be relocating to Southern California.
"It is an indescribable privilege to transition to the Adventist Health Southern California Region to lead an incredible team," Jahn states, adding that he is grateful for the opportunity to serve with quality people doing heartfelt and exceptional work during his 15-plus years in Adventist healthcare. Wing says Jahn's history with the company made him an ideal candidate for his new role. He comments, "Jahn is a creative and compassionate leader with the right skills and experience…[he] has demonstrated his deep passion for our mission and commitment to the communities we serve throughout his tenure with Adventist Health."
A member of the Union College Advisory Board, Chair-elect of the Hospital Council of Northern California, board member and trustee for the California Hospital Association, and executive board member of the Tuolumne County Business Council, Jahn holds a master's degree in business administration from the University of Central Florida in Orlando and a bachelors degree from Union College in Lincoln, Nebraska.