Yosemite Hopes To Better Manage Traffic Congestion During Horsetail Fall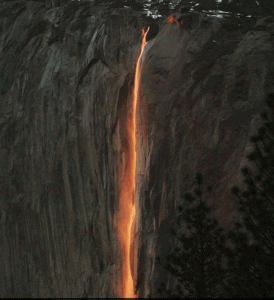 Horsetail Fall

View Photos
Yosemite, CA — A new pilot program is taking effect this year for the Horsetail Fall event from February 12-26.
The natural Horsetail Fall phenomenon occurs each year in mid-February when the sun's light at the sunset causes the waterfall on El Capitan to glow like it is on fire. Over the past several years the popularity of viewing it has grown significantly and has often created major traffic jams.
Due to concerns about pedestrian safety, Yosemite is teaming up this year with the Ansel Adams Gallery, Yosemite Conservancy and Yosemite Hospitality to ensure public access and manage vehicles in the viewing area.
Yosemite is creating an "event zone" from the Yosemite Valley Lodge to the El Capitan Crossover. Visitors will be able to walk into the event zone and take a naturalist guided tour to view Horsetail Fall. Also, only 300 parking spaces will be available within the zone. 250 free permits will be given out through online reservations, and 50 will be available on a first come, first served basis.
For more information, click here.