Valley Residents Arrested In Sonora On Grand Theft Charges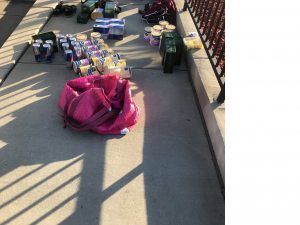 Stolen Items Confiscasted

View Photos
Sonora, CA — Four people were arrested after allegedly stealing an estimated $1,500 worth of items from Sonora businesses.
Yesterday afternoon the Sonora Police Department received a report of two males, and a female, stealing alcohol and baby formula from the Save Mart on Mono Way. They had also been spotted entering and exiting the adjacent Ross Dress For Less.
The three jumped into a pickup truck in which a male driver appeared to be waiting for them. The information was broadcasted to law enforcement officials and the truck was soon spotted heading eastbound on Mono Way. The vehicle was pulled over, and officials located several backpacks that contained baby formula and bottles of alcohol. There were also clothes in the truck from Ross.
During questioning, 26-year-old Maura Rose Aherne of Modesto admitted to stealing the clothes. Those items, and the formula and alcohol, were returned to the stores. Aherne, and the three males in the truck, 22-year-old Brandon Jacob Dominguez of Modesto, 33-year-old Joseph Krueger of Turlock and 23-year-old Christopher Ryan Rocha of Modesto, were all transported to Tuolumne County Jail.
The Sonora Police Department adds that Aherne and Krueger both had a controlled substance in their possession when they were booked into the county jail.