New Brown Executive Order Calls For 5 Million ZEVS On The Roads By 2030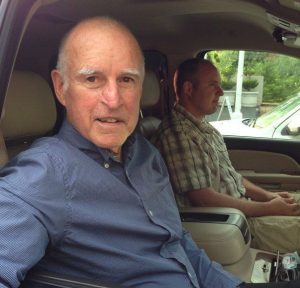 Governor Brown at the Mother Lode Fair: Photo taken by: Tracey Petersen

View Photos
Sacramento, CA – Highlighting that California's transportation sector still emits half of the state's greenhouse gases, Governor Jerry Brown has issued a new executive order and plan geared towards creating more dramatic carbon emissions reductions.
Today, the Governor enacted an order that will boost both the supply of zero-emission vehicles (ZEVs) and charging and refueling stations across the state. He also shared details of a plan he teased in his budget proposal earlier this month that calls for investing $1.25 billion in cap-and-trade auction proceeds towards improving public health and the environment by reducing California's carbon footprint.
The order specifically targets having the state and private sector work together to get five million ZEVs on California roads by 2030 along with significantly expanding vehicle-charging infrastructure to include 200 hydrogen-fueling stations; 250,000 zero-emission vehicle chargers and 10,000 direct current fast chargers by 2025. Brown points out that since 2012 the number of ZEVs has grown from 25,000 to more than 350,000 — a gain of 1,300 percent — that still comprises just about five percent of all new in-state car sales.
The new order, while in step with Gov. Brown's 2017 Climate Change Scoping Plan— which charts the path for meeting the state's greenhouse gas emissions and air quality goals – further increases earlier targets under Executive Order B-16-12, which called for 1.5 million zero-emission vehicles on California roads by 2025.
Brown maintains that by increasing the availability of charging and refueling stations and other zero-emission vehicle infrastructure, it will further strengthen the zero-emissions market and overall state economy; improve air quality and public health; lower fuel costs for drivers and reduce the state's dependence on fossil fuels.
The order also calls for all state entities to continue partnering with regional and local governments to streamline zero-emission vehicle infrastructure installation processes. To help achieve this, the Governor's Office of Business and Economic Development is being tasked with developing a plug-in charging station development guidebook and updating the state's existing Hydrogen Station Permitting Guidebook, published in 2015.
Other actions include updating existing plans and creating new ones to help expand private investment in zero-emission vehicle infrastructure that will strengthen the economy; create jobs; serve low income and disadvantaged communities; make it easier for people to install electric vehicle chargers in their homes and businesses; and ensure charging and fueling stations are affordable and more accessible to all drivers.