Payne Trial Progresses Through Day Six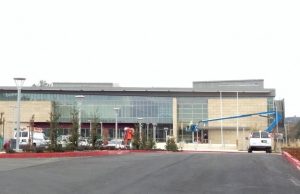 Calaveras County Superior Courthouse

View Photos
San Andreas, CA — The jury will soon begin deliberating the case against a local man who crashed while drunk boating on Lake Tulloch two summers ago, allegedly causing grave injuries to two women.
As reported here, early into the trial the jury was personally able to see and hear of the disabling damage sustained by crash victim Rachael Pringle, who testified along with her husband against defendant Dean Payne of Copperopolis. Payne faces multiple enhanced felony charges for allegedly causing a collision while operating a vessel under the influence of alcohol, inflicting great bodily injury.
This week, through multiple witnesses, photos and drawing, the prosecution focused on placing Payne behind the wheel of his 30-foot cigar boat immediately before and after the crash. Payne's attorney Ken Foley argued navigational issues and direction of the boats involved at the accident scene. Among the detailed photos shown were of the defendant's boat, inside and out, including the outdrive portion of the engine and propeller entangled with the inner tube that the two women were riding in as they were hit.
The jurors heard eye-witness testimony from boaters as to specifics of the scene around the time of the July 2015 collision. They also viewed photos of victim Robin Tsai, including from prior to the crash and in the hospital being fed, also hearing testimony from her family. While the jurors were recessed, the prosecution requested a hearing to determine the relevance of testimony from an expert witness on technical mechanical failures and accident reconstruction that the defense wanted to call, on the grounds that no notes, calculations or reports were submitted to the court as part of the discovery process.
Yesterday and today were short court days. Wednesday saw Foley call two deputies to the stand, who finished their turns shortly after 9 a.m. after which the jurors were excused. Payne himself was allowed to leave just after 11 o'clock and ordered to return tomorrow morning.
In the jury's absence yesterday morning, Foley requested to provide them with some special instructions and perhaps make an additional argument; all pertaining to rules and codes regarding safe vessel operations and DUI that he culled from U.S. Inland Navigations and Harbor and Navigation codes and civil jury instructions. The prosecution maintained that all were out of context, unnecessary, confusing and/or already covered in criminal jury instructions.
This morning, Judge Susan Harlan decided that the additional instructions were not applicable, despite objections by Foley, and jury instructions were reviewed. Tomorrow, on Day Seven of the trial proceedings, the jury will reconvene and is slated to be given instructions for their deliberations.