Watch Out For Sticker Thefts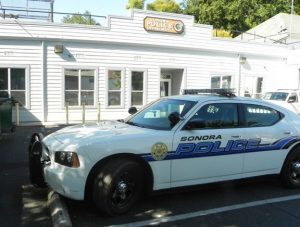 Sonora Police Department

View Photos
Sonora, CA – Several calls from the public notifying Clarke Broadcasting of thieves sweeping through area parking lots and ripping off vehicle registration tags triggered an inquiry to police.
Residents told stories of recently either seeing suspects removing stickers or discovering that their own had been taken while their vehicles were sitting at Sonora parking lots.
The latest incident happened outside the Safeway Grocery store at the Crossroads Shopping Center on Sanguinetti Road. We relayed the information to Sgt. Glen Roberts, who was unsurprised.  He says it's a common occurrence that happens year round, advising that  police are aware, "They take somebody else's tab and put it on theirs, thinking they won't get caught.  But we can run the number on the tag back to the DMV and find out who it belongs to."
There are also steps that the public can take to make their stickers less of a target, foiling potential thieves.  As Sgt. Roberts explains, "A way to keep tags from getting stolen is once you install a tag, use a razor blade to put a couple of lines through it, so when they rip it off, it comes off in pieces."
Another remedy — if you see suspicious groups or an individual casing vehicles in a parking lot, call 911 to report it.