Candidates Hitting the Campaign Trail In The Mother Lode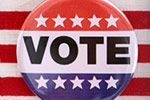 elections

View Photos
Sonora, CA — Some state and federal candidates have announced campaign stops in Tuolumne County over the next couple of weeks.
The five events will be held in Sonora. The first is scheduled for Sunday, Jan 7th at the Ambulance Headquarters located at 1844 Striker Court from 2 p.m. – 5 p.m. Attending the meeting will be Democrat Pat Harris who is running for U.S. Senate against incumbent Democrat Sen. Diane Feinstein. Also vying for her seat is State Senate President pro Tempore Kevin de León (D-Los Angeles). There are no prominent Republicans in the race at this point. Jessica Morse will also address attendees. She has tossed her hat into the ring to challenge District Four Congressman Tom McClintock, who has held the seat for six straight terms. Other challengers in the race include Democrats Roza Calderon, Regina Bateson and Richard Martin, and Republican Steven Castellano from the Rocklin area. Organizers say a shuttle will be provided from the bottom parking lot at Striker Court to the building, and those attending are asked to arrive by 1:45 p.m.
The next event will be an informal meet and greet with Morse on Monday, Jan 8th from 8:30 a.m. -10:30 a.m. at the Heart Rock Café at One South Washington Street. Morse is expected to give a speech as well.
Also on Monday, Jan 8th the Democratic Women's Coalition will host Carla Neal a candidate for State Assembly in District 5, which is a seat held by Republican Frank Bigelow who is in his fourth consecutive term. Neal will be speaking from 11 a.m. – 11:30 a.m. at the Sonora Fire House on 201 S. Shepherd Street.
On Tuesday, Jan 9th, Democrat Tom Pratt will speak, who is bidding for the State Senate District 8 seat that will be vacated by Sen. Tom Berryhill, (R-Modesto) who will term out after 12 years.  The meeting is a joint Tuolumne County Democratic Club and Tuolumne County Indivisible group meeting that begins at 7 p.m., also at the Ambulance Headquarters on Striker Court. Organizers share that other yet to be announced local candidates will also be speakers.
Morse, Pratt and Neal will also be attending a Tuolumne County Democratic Central Committee meeting on Monday, Jan. 15th beginning at 5:30 p.m. at the County Board of Supervisors chambers located at 2 South Green Street.
We also checked in with local Republicans to see if any state and federal candidates will be visiting, who told Clarke Broadcasting they would let us know if any meet and greet type events are scheduled in the months and weeks before the election. The primary will be June 5.