Stolen Car Occupants Arrested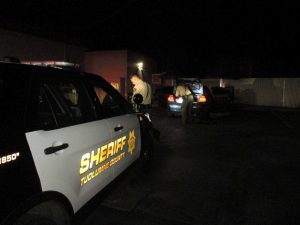 Arrest scene involving stolen vehicle

View Photos
Jamestown, CA – Two women and a man were taken into custody for stealing a car that also had burglary tools and counterfeit bills inside.
A blue Mitsubishi sedan parked at the Sierra Energy gas station in Jamestown caught the eye of a Tuolumne County Sheriff's Deputy passing by around 3 a.m. A registration check revealed that the car had been stolen out of Modesto. Inside the sedan were two women and two men all from that city: 40-year-old Natalie Gomez , 48-year-old Shanie McVey, 41-year-old Jason Rodman and 41-year-old Shane Calbreath.
Back up arrived on scene and through questioning the two women and Rodman were arrested for the car theft. A search of the vehicle also turned up burglary tools and counterfeit $100 and $20 bills, which were determined to belong to Rodman. He now faces additional related charges.  Calbreath was cited and released at the scene for having drug use materials on him.