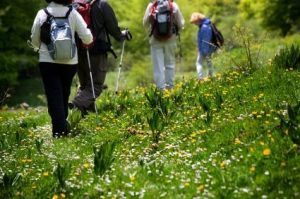 Outdoor hiking

View Photos
Welcome to 2018! Start the New Year off right by meeting your January Move More challenge with Calaveras' top tips for activities to keep you moving through January and beyond.
Lisa Boulton, Calaveras Visitors Bureau Executive Director, was Thursday's KVML "Newsmaker of the Day".
According to Boulton, there may be a gentle mountain chill in the air, but that's no excuse to stay indoors. She urges residents to start 2018 off right.
There are eight tips to Move More in Calaveras County. The Visitor's Bureau List is a follows:
1. Take a Walk
Start with the basics. Did you know that just moving your body outside for twenty minutes can energize your day and bring fresh perspective? Don't take our word for it; try it yourself. Whether strolling through one of our picturesque historic downtown areas or hitting a local trail, there's nothing like taking a walk to ease you into the January #movemore lifestyle.
Explore the historic Calaveras town of your choice.
Find a lakeside trail year round with our Calaveras Lakes Round-Up guide.
Looking for snow? One can typically head anywhere from Arnold to Bear Valley Mountain.
2. Run
Take it up a notch, and turn any of the above walks into runs! You can even make it social. Check out the 26th Annual Copper Run in Copperopolis, CA. Choose from a half mile, 2 mile or 10K. Proceeds will benefit the local Fire Department, school and Copper Library. Later in the year, sign up for the Angels Camp Gold Run, it usually takes place in September.
3. Play Golf
Winter is a great time to check out Calaveras' fun and five challenging courses from Angels'c Camp's Greenhorn Creek Resort to Copperopolis' Saddle CreeK Golf Resort.
4. Disc Golf
In case you haven't heard, disc golf is kind of a big deal around here. If you've never tried it, give it a shot – it's harder than it looks and you get a good walk out of it! Plus, most courses are either free or have small park entrance fees. Disc Golf is well represented throughout the county, with courses at Lake Hogan (near Valley Springs), Plug Ugly Disc Golf Course (in San Andreas) and Feeney Park (in Murphys). We have more than a few disc golf courses to choose from. Check our various disc golf courses out side by side and learn more about our higher elevation disc golf courses available in warmer months.
5. Bike
The lower elevation Calaveras lake trails are a great spot to sample local mountain biking. While the Arnold Rim Trail tends to be covered in snow this time of year, watch the weather. It can be in excellent shape with a spell of dry weather. The mild daytime temps in the foothills can make for a great day of road cycling as well. Calaveras even has many popular cycling events throughout the year, here are some favorites:
Mr. Frog's Wild Ride (April)
Ebbetts Pass Century Ride (August)
Murphys Winery Bike Tour (Anytime)
6. Go Cross-Country Skiing or Snowshoeing
Whether it's on a pair of snowshoes or cross country skis, few winter activities combine both the challenge and reward of these snow country sports. Once you arrive at the crest of a trail to take in the views of the Sierra Nevada, you'll be glad you pumped your way to the top. Bear Valley Cross Country has world-class striding, skating and snowshoes trails, and a full rental, retail and demo center. Big Trees State Park is also magical in the snow, and a snowshoe through the park is a truly unique way to experience this ancient forest.
Explore the Stanislaus National Forest on your own by using the parking areas at Spicer Road, Round Valley or Lake Alpine. For these, you'll need a $5 Sno-Park pass, which you can find along with snowshoe rentals, maps and other area info at Sierra Nevada Adventure Company, Ebbetts Pass Sporting Goods, or Bear Valley Cross Country.
7. Get Underground–Caving Style
For something deep, check out local Moaning Cavern and Mercer Caverns–open year round. Two of our most popular caves, Moaning Cavern and Mercer Caverns are both vertically oriented – meaning there are plenty of stairs for you to get a unique workout any time of year. Make sure to come back for a visit later in the new year in order to checkout California Cavern–open seasonally and featuring some spectacular walking or spelunking tours.
While you're at it, check out Moaning Cavern's climbing tower, twin-ziplines, and adventure tours.
8. Get Social at Your Local Yoga or Fitness Studio.
The mind and spirit need to stay fit too. That's where Yoga and Fitness Studios come in. A great place to make new friends, visit studios in Angels Camp and Murphys, Arnold and Bear Valley Village (Alpine County).
For more information, cal 209-736-0049 or log on to https://www.gocalaveras.com/january-move-more-challenge/
The "Newsmaker of the Day" is heard every weekday morning at 6:45, 7:45 and 8:45 on AM 1450 and FM 102.7 KVML.