A Little Bare At First Manual Snowpack Reading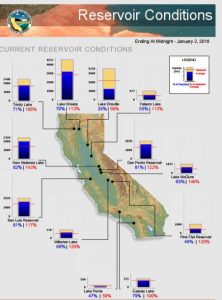 Current state resevoir levels

View Photos
Sacramento, CA – Cautioning it is too early for fear that California is on a slippery slope back into a drought year, water officials found nearly a bare field at the first snowpack measure.
Today as Department of Water Resource (DWR) officials conducted the year's first manual survey of the state's crucial winter snowfall at the Phillips Station located off Highway 50, 90 miles east of Sacramento. It measured only 3 percent of normal snowpack in areas of the Sierra Nevada and was in line with the electronic monitor readings. California's water supply starts out as snow in the Sierras with up to 60 percent coming from the mountain range. This latest reading puts the snowpack at a fourth of normal so far across the region.
DWR spokesperson Frank Gehrke who conducted the survey advised, "There is still a lot of winter left. January, February and even into March are frequently very productive. In fact last year, where we ended up with such a record season, we really got started in January and February with the atmospheric rivers that are critical to California's water supply."
Department of Water Resources director Grant Davis adds that state reservoirs still have good supplies from a rainy winter last year. Currently, New Melones Lake is sitting at 82 percent and 143 percent of historic average; Don Pedro Reservoir is 81 percent and 122 percent respectively.
Click here for a chart of the current California reservoir levels.