New Monthly Event At The Opera Hall: Friday Flix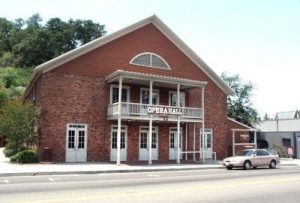 Sonora Opera Hall

View Photos
A new monthly movie event will debut at the Sonora Opera Hall on Friday January 12th.
Laurie Lehman and Nancy White of the Sonora Chamber of Commerce and 2nd Saturday Art Night were Wednesday's KVML "Newsmaker of the Day".
Introducing Friday Flix at the Opera Hall.
As Lehman explains, "You may have seen these movies… but not like this"!
Each movie shown will be a full INTERACTIVE movie experience.
According to White, "We begin this series on January 12th, with a classic movie from 1939, The Wizard of Oz. Notable for its use of Technicolor, fantasy storytelling, musical score, and memorable characters, it has become an icon of American popular culture. Widely considered to be one of the greatest films in cinema history."
So, how do you make a movie interactive?
When you enter the "theater" (Opera Hall) you will be given a program and the first fifty people get a goodie bag. This movie has iconic songs, (words in the program) so the entire audience can sing along! The bag contains a flag to wave every time someone says Dorothy's name. The wicked witch enters the scene, boo…hiss.
And this is just the beginning. The public is invited to come dressed as their favorite character. There will be a costume contest with great prizes for the top two winners. The audience will be the judges.
The popcorn is free and the entire family is invited. For both kids and adults, there will be themed beverages.
The doors open at 6 PM. The costume contest begins at 6:30 PM. The movie starts at 7 PM. Tickets are $5 at the door.
The public can either bring their own chairs or sit in the chairs provided.
Friday Flix is a separate companion to 2nd Saturday Art Night, which is presented by the Sonora Chamber of Commerce.
Art Night began in 2010 with six art galleries. It grew rapidly. Today, it continues to be one of the most successful events featured in downtown Sonora.
Lehman and White hope Friday Flix will also become a community staple.
Upcoming movies include The Birdcage on February 9th, The Big Lebowski on March 16th and Men in Black on April 13th.
For more information, log on to http://www.sonorachamber.org/
The "Newsmaker of the Day" is heard every weekday morning on AM 1450 and FM 102.7 KVML at 6:45, 7:45 and 8:45 AM.