Sound Of Possible Gun Fire Led To Arrest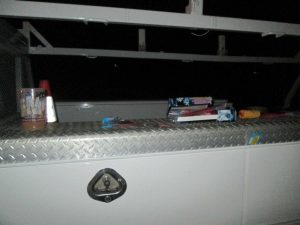 Fireworks found on truck

View Photos
Tuolumne, CA —  A Tuolumne man may have over indulged in his celebration of the New Year.
Tuolumne County Sheriff's Deputies responded to a call of yelling kids and gunshots heard in the area of Apple Colony Road in Tuolumne City on New Year's Eve. As they arrived on the scene around 9:30 p.m., instead of firearms they heard fireworks and decided to do a foot patrol of the area. Once on Oak Street, they witnessed 32-year-old Micah Hicks in his driveway launching a mortar type firework into the air that cause a loud explosion and sounded like a gunshot. There were also several fireworks lying on the top of a truck, as can be seen in picture in the image box.
While questioning Hicks, deputies noticed he was swaying back and forth, his eyes were bloodshot and he reeked of alcohol. Sgt. Andrea Benson indicates safety played a role in Hicks' arrest, stating, "Deputies checked the home and nobody came to the door. I believe they could also see some fireworks in the home and there were some in a nearby locked car. They [the deputies] were only able to get to so many of them [fireworks]. So that's why they arrested him as well, to get him out of that situation, because they couldn't get to all the fireworks."
Sgt. Benson adds that Hicks resisted arrest at first as he tried to pull away from deputies and then refused to sit in the patrol car but eventually complied. Hicks also made several threats to kill deputies on his way to jail.
Deputies confiscated all the accessible fireworks and turned them over to the Tribal Fire Department to destroy. Sgt. Benson reminds the public that transporting and possessing fireworks is illegal in the county and could result in jail time and/or a fine, which starts at $250. She notes that deputies were also called to reports of firework being set off on New Year's Eve in Long Barn and Soulsbyville but deputies were unable to find the culprits.