Vehicle Found Burning In Sonora Parking Lot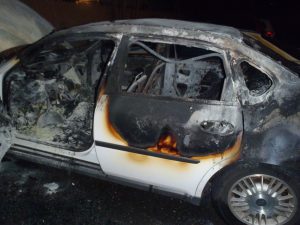 Burnt out vehicle near Sonora High School

View Photos
Sonora, CA – A vehicle was set ablaze in a parking lot of a business near Sonora High School early this morning.
Upon arriving on the scene around 1 a.m., officers found a white 2002 Chevy Impala fully engulfed in flames in the parking lot of the Northtown building located at 427 North Washington Street/Highway 49 near the Columbia Way intersection. The flames were put out by Sonora City firefighters that arrived just after police. Finding no one in the vehicle or an owner at the scene, Acting Sonora Police Chief Turu VanderWeil detailed, "The arson investigator was able to determine a source and that it was intentionally set based on the evidence left at the scene with the vehicle." Chief VanderWeil would not disclose to Clarke Broadcasting what that evidence was as the investigation is ongoing.
The owner of the vehicle lived nearby, according to the Chief, who shares it is still unclear as to why the car was parked there. He adds that detectives are still canvasing the area to see if there are any witnesses to the fire or surveillance cameras nearby.
Police are asking for anyone who may have been in the area around the time of the fire to call the department at 209-532-8141.