Update: PG&E Outages In Arnold, Avery, West Point, Pioneer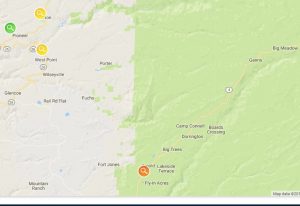 Power Outages Dec 4 2017

View Photos
Update at 5:11 p.m.: Well over 4,000 PG&E customers in various spots around the Mother Lode remain in the dark for reasons PG&E crews are still working to determine.

Over 1,900 Arnold customers in two outage spots in the areas of Lilac Park and Lakeside Terrace are affected. In Avery, just over 900 customers on both sides of Highway 4 are also without power. Among the affected communities are Ponderosa Park, Hathaways Mountain Pines and Ebbetts Pass Highlands. PG&E officials are saying service should be restored sometime in the 6 p.m. hour but have not identified the cause.
In the Barton area, 1,300 customers are additionally in the dark. The outage covers residences in and around parts of Buckhorn Ridge and Tiger Creek roads; East Meadow, South Creekside and Sugar Pine drives. PG&E officials are noting that in areas like these that have been affected by wildfires, once granted safe access by CAL Fire, crews will assess and can generally get power restored in 48 to 72 hours. In unaffected areas, estimated restoration information is not yet available.
In the West Point area, 75 customers off Higdon and Spink roads are still waiting for their lights to come back on. PG&E officials had estimated 5;15 p.m. as when that might happen. Before 6 p.m. they are hoping to have service back on for more than 90 residences in the areas of Coon-Hollow, Eganhoff Road and Lane, Bald Mountain Road, and Ridgecrest Way. Causes for the outages have not been released.
Original Post at 3:30 p.m.: Sonora, CA — PG&E is reporting at least three area outages this afternoon and in each case the causes are still undetermined.
The largest one is affecting nearly 800 customers in the Arnold area between Fly-in Acres and Lakeside Terrace, which PG&E estimates might be restored by 6:30 p.m.
Near West Point, another 426 customers in the Bummerville area are also without power. The area includes customers between Skull Flat, Lily Gap and Bald Mountain roads. The lights are out for an additional 242 customers in Pioneer are also near and along Buckhorn Ridge Road. PG&E currently says these outages may be repaired before 6 p.m.