Sonora Man Charged With Kidnapping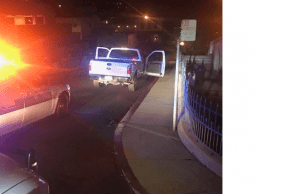 Truck involved in Cole Cranstoun arrest

View Photos
Sonora, CA – A suspect is behind bars with a $100,000 bail after a bizarre incident that began at a local shopping center and included battery and kidnapping.
On Thursday, Sonora Police responded to Walmart for a report of a domestic violence restraining order violation. Once on scene, a female victim stated that she had an order of protection against 20-year-old Cole Cranstoun of Sonora, who had been in the parking lot. She also relayed that she was in fear of her safety after an incident with the suspect the night before at the same location.
The two had a "heated argument" in the store and once in the parking lot she alleged after that he picked her up and carried her across the parking lot in to a pickup. She says during the fight she was knocked out at which time he put her in the truck and drove off to a Sonora residence. The victim indicates that she woke up in a bed with Cranstoun sleeping next to her. She was able to sneak out of the bed and escape to safety.
Officers staked out the home and were able to arrest Cranstoun without incident when he left the home in the same truck around 10:15 p.m. Thursday.
Cranstoun faces charges of felony domestic battery, causing injury, kidnapping, and violation of a court order.