Man Sentenced For Death Of His Father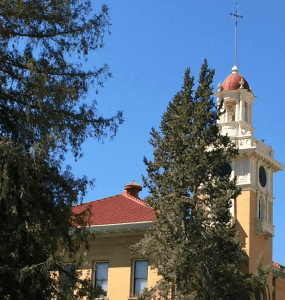 Sonora Old Courthouse Building cupola

View Photos
Sonora, CA – A Sonora man pled guilty to vehicular manslaughter while intoxicated for a wreck that took the life of his father and injured his wife.
52-year-old Loren Gene Mears was sentenced on Monday to 15 years-to-life in state prison by Judge Donald Segerstrom. Mears also admitted to a prior conviction for DUI causing injury, which involved his wife in 2003. That previous conviction allowed Assistant District Attorney Eric Hovatter to file for an enhancement to Mears charges back in 2015, as reported here.
The fatal crash happened in October of 2014 when Mears got behind the wheel of a 2001 Jeep Wrangler after consuming a cocktail of drugs that included: methamphetamine, marijuana, Alprazolam and Temazepam. Mears' wife, Wendy Anne, was in the front passenger seat and his 92 year old father, Loren George Mears, who suffered from dementia, was in the back seat without a seatbelt. The son was speeding and driving erratically as his wife begged him to slow down and let them out of the vehicle, according to the D.A.'s office.  Instead, he took off as his wife tried to jump out of the Jeep not allowing her to get free.  A short distance later on Campo Seco Road he lost control of the vehicle, which went up an embankment and overturned ejecting his father. The elder man died in the crash while the wife suffered broken bones.
The D.A.'s office also offered evidence of Mears' state at the scene as a nearby resident testified he was nearly incoherent.