High Hazard Area Fire Restrictions Lifted In Stanislaus National Forest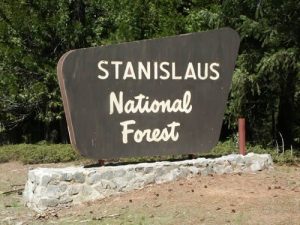 Stanislaus National Forest

View Photos
Sonora, CA – Stanislaus National Forest officials today lifted their temporary fire restrictions in the high hazard areas that have been in place since July 20.
This year's timeframe for the restrictions, according to spokesperson Diana Fredlund, was a longer one than usual and that moisture content just became sufficient enough to finally remove them.
"We still had fires going on in the forest and we were still trying to maintain the safety for the firefighters as well as for members of the public," Fredlund explains. She adds that a big "thank you" is due to the public for doing their part to help prevent destructive wildfires this season, especially in the especially prone high hazard areas.
She emphasizes that campfire permits are still required for those camping outside of developed campgrounds. These can be easily obtained at visitor centers or online by clicking here.
Too, Fredlund stresses, as there are still a number of campers out there, year 'round safety precautions are essential while recreating outdoors on public lands. She shares these notable reminders:
–Make sure all campfires are dead out before leaving the site. Use the "drown, stir and feel" procedure to extinguish your fire.
–Before making a campfire, clear an area at least ten feet in diameter for it.
— Never leave a fire unattended and keep a shovel and bucket of water nearby at all times.
With regard to vehicles and equipment…
— Prevent vehicle-related fires by maintaining proper tire pressure and adequate tire tread.
— Check brakes to make sure they are not overheating.
–Avoid traveling or parking on brush or grass and ensure tow chains are not dragging.
–Remember that motorcycles, ATVs and chainsaws require an approved spark arrestor.