Legal Indoor Pot Grow Found Out Of Compliance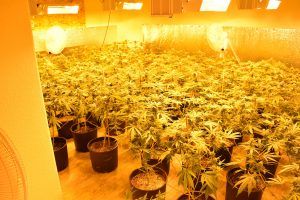 Premitted grow found out of compliance in Valley Springs

View Photos
Valley Springs, CA – A routine code compliance inspection turned up far more marijuana plants than a permit allowed at a Calaveras County property.
After knocking on the door of a residence on the 3500 block of Dunn Road in Valley Springs and getting no answer but hearing someone moving around inside and a ringing cell phone, Calaveras County Sheriff's Office Deputies and Calaveras County Code Compliance officials got a warrant and raided the property. Inside a bedroom, deputies found 66-year-old Lin Bin Wei of Chicago, Illinois who due to a language barrier and was not following ordered commands, according to Sgt. Rachelle Whiting.
Whiting details, "261 marijuana plants were eradicated from the areas of the residence where growing was not permitted. These plants were being grown illegally and separate from an additional 200 square feet of permitted growing area. Nearly 43 pounds of processed marijuana was also seized." She adds it was determined by measuring that registered grows in the house were over the permitted square footage. Another 21 marijuana plants were seized from those areas.
Lin Bin Wei was arrested and booked into the Calaveras County Jail for illegal marijuana cultivation. His bail is set at $15,000 bail.