Swearing In Calaveras Sheriff's Office Volunteers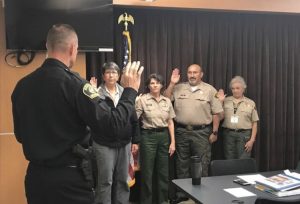 Sheriff DiBasilio Swears In Volunteers

View Photos
San Andreas, CA — This morning Calaveras Sheriff Rick DiBasilio swore in the newest volunteers of his department.
They included Susan Good, Janet Ferree, Sal Prado and Merry Stubbins. The volunteers assist the department by providing traffic control, carrying out administrative assignments, operating the sub-station, proving vehicle patrol and other assignments as needed.
The Calaveras County Sheriff's Office continues to seek new volunteers. Many are retired, or semi-retired. Training is provided, and background checks are made on all applicants. For more information you can stop by any of the sheriff's sub-stations or call 209-754-6500.