Mother Nature Helps Contain And Diminish Lightning Strike Fires In Yosemite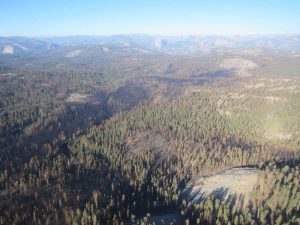 Yosemite South Fork Fire fire 100% contained

View Photos
Yosemite, CA – Yosemite National Park officials credit the recent wet weather with putting out and dampening several lightning strike fires.
This week's small rain and snow has allowed fire officials to finally call the South Fork Fire ignited in August and following month's Ribbon Fire 100 percent contained.
The wet weather has also reduced the Empire and Star King fires, which ignite this summer, to smolders with smoke still visible from Glacier and Washburn Points.
A prescribed burn in the Historic Merced Grove earlier this month set ablaze 100 acres of understory in the upper grove to reduce fuels. Park fire officials indicate that if conditions warrant more fires may be sparked in the grove before the first heavy rain or snow prohibits further ignitions. Pile burning will also continue through the fall and winter as long as Mother Nature continues to cooperate. Currently, that type of operation is taking place along the "Bridalveil straight" area in the Yosemite Valley, which is part of the Scenic Vista Management and Meadow Restoration Projects. Click here for more details on that project.