Prescribe Burn To Create Smoke In Forest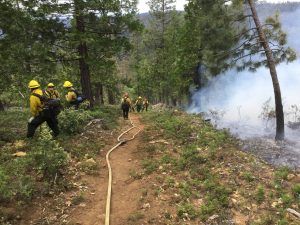 Stanislaus National Forest fire crews work on prescribed burn

View Photos
Tuolumne County, CA – Nearly 3,000 acres of understory will be set ablaze on the Stanislaus National Forest to help reduce forest fuels.
The Jawbone Understory Burn is underway on the Groveland Ranger District in Tuolumne County. The specific locations include: Township 1 North, Range 17 East, sections 24, 25 & 36 and Range 18 East, sections 19, 29, 30, 31 & 32; Township 1 South, Range 17 East, section 1 and Range 18 East, sections 5 & 6. A total of 2,983 acres is being treated with low-intensity fire, but the burning is being broken up into about 50-150 acres daily depending on weather and fuel moisture conditions along with permissible air quality burn days.
Smoke may be visible from Highway 120, with some down canyon drift smoke visible in the evening and early morning. Forest fire officials want the public to be aware of the burn and ask that they not to report the burn as a wildland fire.