Armored Cars To Collect State Pot Taxes?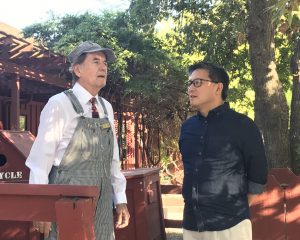 State Treasurer John Chiang Visits Railtown 1897

View Photos
Sacramento, CA – California's treasurer is recommending using armored cars to transport hundreds of millions of dollars in expected cash tax payments next year with the legalization of recreational marijuana.
California State Treasurer John Chiang maintains that a lack of banking services that will force much of the cannabis industry to operate in cash and create potential risks to the public. "It is unfair and a public safety risk to require a legal industry to haul duffle bags of cash to pay taxes, employees and utility bills," argues Chiang. "The reliance on cash paints a target on the back of cannabis operators and makes them and the general public vulnerable to violence and organized crime."
The use of brink like trucks was part of a plan unveiled Tuesday in a report titled "Banking Access Strategies for Cannabis-Related Businesses," which was created by the Treasurer's 18-person Cannabis Banking Working Group, whose members included representatives from local and state government, the cannabis industry, financial institutions and law enforcement.  The report is intended to help the state deal with a big problem that comes with the new legal pot market that most marijuana companies do only a cash business — including paying taxes. The problem stems from the fact that most banks don't want anything to do with marijuana money because the plant remains illegal under federal law, according to Chiang, who formed the Cannabis Banking Working Group. He adds that a comprehensive solution will remain elusive without changes in Washington.
The state will get a 15 percent cut on retail pot purchases next year, which is projected to generate annual sales exceeding $7 billion and an estimated $1 billion a year in tax revenues.
Click here to view the entire report.