Angels Camp Native Dillashaw Reclaims UFC Bantamweight Title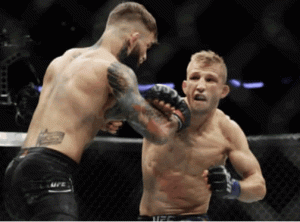 T.J. Dillashaw Defeats Cody Garbrandt

View Photos
New York, NY — T.J. Dillashaw is once again the top fighter in the UFC's 135-pound bantamweight division.
Dillashaw won the title in 2014, but then lost it in 2016 following a defeat to Dominick Cruz. At Madison Square Garden in New York City on Saturday evening Dillashaw reclaimed the top spot by knocking out Cody Garbrandt in the second round of the title fight.
Dillashaw stated during a post fight press conference, "It was awesome. Just to even tell yourself you're fighting in Madison Square Garden, that's a treat in its own. You're coming to a very historical arena. Then to have a historical night, and be part of it, that's always going to remembered."
Dillashaw and Garbrandt had previously trained together at Team Alpha Male in Sacramento. However, they had a high profile falling out after Dillashaw later moved to Colorado, and then Southern California, where he now lives and trains.
Dillashaw has a major following in Calaveras County, where he grew up, and wrestled at Bret Harte High School. After he initially won the title in 2014, the Angels Camp Mayor declared "TJ Dillashaw Day," and the community hosted a parade and celebration for the champion.