Governor Reacts To Newly Revealed Republican Tax Plan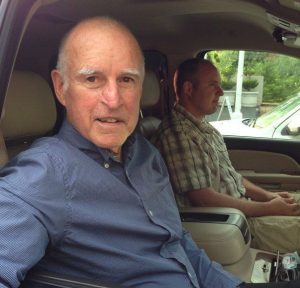 Governor Brown at the Mother Lode Fair: Photo taken by: Tracey Petersen

View Photos
Sacramento, CA — Governor Jerry Brown came out in opposition of the Republican tax plan that was unveiled in Washington D.C. today citing that it is bad economics.
The proposal includes slashing the corporate rate to 20 percent, doubling the standard deduction, increasing the per-child tax credit, shrinking the number of tax brackets from seven to three, ending the death tax and state and local tax deductions just to name a few details, according to the Associated Press.
Brown criticized, "The hurried tax proposal unveiled by Congress today transfers income from individuals and families to large and powerful corporate structures. This is bad economic policy and bad for the American people."
A letter from the Governor calling on California's 14 House Republicans to do "what's right for the state and their constituents" was sent out last week to Bakersfield Congressman Kevin McCarthy asking them to vote no. In the letter, Brown outlines a major concern he has with the proposal, stating, "Getting rid of an individual's ability to deduct his or her California taxes is a horrible idea, but it is made far worse when you preserve – at the same time – the right of corporations to take those same deductions."
This week, Brown also joined New York Governor Andrew Cuomo in a media call to discuss the potentially devastating impacts of elimination of state and local tax deductions, echoing the letter.
Click here to view the Governor's entire letter.