Calaveras Marijuana Enforcement Team Makes Swoop On Illegal Grow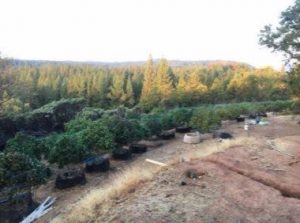 Independence Cemetery Road Grow Eradication Oct 31 2017

View Photos
San Andreas, CA — As many folks focused on the Halloween holiday Tuesday an illegal grower was arrested during a multi-agency swoop with a search warrant onto a targeted Railroad Flat property where seven firearms were also confiscated.
According to Calaveras Sheriff's Office officials, the Marijuana Enforcement Team (MET), assisting the Bureau of Land Management (BLM) and the TRIDENT Tri County Drug Enforcement Team secured the scene, located near the 2000 block of Independence Cemetery Road. During the search, along with the firearms, enforcement personnel seized 595 marijuana plants and approximately 400 pounds of processed marijuana and the grow was subsequently eradicated.
Taken into custody was 33-year-old Gregory Garner of Railroad Flat, who now faces cultivating marijuana in violation of the 1052 water code; criminal conspiracy; keeping a controlled substance for sale; cultivating more than six marijuana plants and possessing marijuana for sale. He was booked into the Calaveras County Jail and assigned a $100,000 bail.
TRIDENT, described as a High Intensity Drug Trafficking Area Drug Task Force, consists of instigators from cities and counties, the state, and federal law enforcement agencies and has broad jurisdiction in California. While not specifically identified as being located on a BLM-owned parcel, the rough address given of the grow location is in close proximity to a BLM property located at 2150 Independence Cemetery Road. To view agency photos taken during the search operation click into the image box slideshow.