Staff, Docs Weigh In On Mark Twain Medical Center Negotiations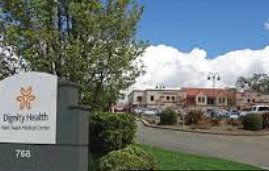 Mark Twain Medical Center

View Photos
San Andreas, CA — With new long-term lease negotiations hanging in the balance a number of a local health care district's employees are attempting to help sway the decision.
This morning, in an email blast to stakeholders and local media, Shawna Parker, a registered nurse describing herself as a formally deputized member of the SEIU union representing staff at Mark Twain Medical Center/Dignity Health, attached two petitions. They were signed by 130-plus staff members and more than 20 physicians of Mark Twain Medical Center (MTMC), its clinics and outpatient services.
While as reported here, similar petitions had already been submitted to and were acknowledged by the district board at its late September meeting, Parker stressed in the email what she calls a "collective concern" among those who signed the petitions with the hope that the district board will decide to continue the existing culture as supported through the current Dignity Health partnership.
In her statement, she entreaties, "Please take the time to consider the people who are the undersigned; they are your emergency care physicians, your general surgeons, orthopedic surgeons, your hospitalists, your pediatrician, your oncologist, your primary care physicians, family nurse practitioners, physician assistants and many more. These individuals are the people who care for our families. If you trust them to take care of your loved ones, please trust that they have faith in the right organization to take care of our community."
Still Soliciting Input, Anticipating Second Offer 
Prefacing his thoughts on the email, Mark Twain Health Care District Executive Director Dr. Randy Smart chose to emphasize the hospital district's great respect for MTMC employees and medical staff. Along with continuing to welcome their input on the district's decisions and processes as essential, he adds that the district is striving to be as transparent and accessible as possible as negotiations continue with Dignity, which has an offer on the table, and with Adventist Health officials who are continuing to hone their proposal.
Too, he notes, "As we enter into the final weeks of the hospital lease negotiations we expect emotions to run high. The district will be holding meetings as we have throughout the year with stakeholders and the general public — we really want to get this right for our great county."
The board has a special meeting scheduled for tomorrow at 7:30 a.m. in Mark Twain Medical Center's Classroom 5 (768 Mountain Ranch Road, San Andreas). Due to the upcoming Thanksgiving holiday the next meeting will not be Nov. 22 but on Nov. 29. The district generally holds its regular meetings on the fourth Wednesday of every month, beginning at 7:30 a.m. While the ongoing negotiations are conducted under closed session, other elements such as any action taken and public discussion are part of the open meeting agenda.
Smart shares, "We are starting to plan for some public discussions in mid-November, followed by a board decision at our November meeting." Other already stated goals are to present the decision to the county supervisors sometime in December and have a ballot measure submitted to the Elections Office in January in time for the next election.
With regard to the public meetings, Smart says when the dates are formally set the district will promptly get the word out, adding that he hopes residents will plan to come out and participate in the process.