Tuolumne's First Transit Center Opens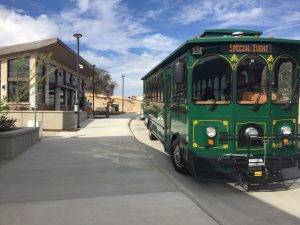 Tuolumne Transit Center

View Photos
Sonora, CA– Tuolumne County Transit celebrated the opening of its first transit center today. The ribbon cutting ceremony was held at the 1,300 sq. ft. transit center facility today off Justice Center Drive beyond the Mother Lode Regional Juvenile Detention Facility.
New bus routes, schedules and increased fares begin this Wednesday, November 1.
Transportation Planner Tyler Summersett says the 5 routes are planned with knowledge of shift changes for employees at the casinos and students' class start times at Columbia College. Route 2, in purple reaches beyond Mi Wuk Village to Sierra Village and that Route will now end at the Transit Center. Previously Route 2 ended at Courthouse park.
Tuolumne County Transportation Council (TCTC) Executive Director Darin Grossi says the area previously covered by Route 6, Phoenix late to Crystal Falls, did not get enough ridership so riders may call 532-0404 and arrange to be picked up. This general public on-demand service will be available between 7am and 6pm weekdays and 9am to 4pm on Saturday.
Seamless transitions are expected at the transit center to the Orange, Route 3, leaving for Jamestown and Chicken Ranch Casino and also Columbia College, the Red Downtown Sonora Route 1 connects to the Blue Route 4 which also goes to Columbia and the College and the Green Route 5 will now go from the transit center to Black Oak Casino Resort and places in Tuolumne City.
Grossi says the transportation system has used Nextbus to track and estimate bus arrival times for a while calling it "a big help in getting our busses maintain a 96% on-time performance." Nextbus information with down-to-the-minute arrival times is on a display screen at the transit center. Bus arrival time and information about Nextbus and how to use it is available here.
The Transit Center land (about .24 of an acre) was purchased in 2014, ground breaking happened Sep 15, 2016. Construction took several more months to complete due to rain and water runoff issues as well as rock which delayed the construction of the road to it. There are two restrooms, indoor and outdoor seating including metal benches made at Maker Metal by Eric Truner, wifi and outlets to charge electronic devices and bike racks. The facility will be closed, the power and wifi turned off after the last bus leaves at about 8pm.
The total cost for the project was estimated to be $1.9 million with many Tuolumne County and City of Sonora employees assisting with the budgeting process including Country Clerk Debbie Bautista and the Tuolumne County Supervisors. Through the State Proposition 1B Bond Program, Tuolumne County had $1.5 million in Public Transportation Modernization, Improvement and Service Enhancement Account (PTMISEA) funding. Those funds only cover transit capital improvement projects, such as bus shelters and transfer facilities. Funding also came from the Low Carbon Transit Operations Program, Local Transportation Funds and some CalOES grant money went toward surveillance and lighting at the facility.
Maintenance of the facility is combined with the maintenance already in place at the Juvenile Detention Facility. Parking for passengers at the transit center is along the road, the need to expand parking will be assessed as its use grows. A Park-N-Ride facility in Downtown Sonora is on the list of Short-Range Capital Improvement Projects.
Fare increases approved a year ago will go into effect Wednesday to ensure that Tuolumne County Transit receives the state mandated 10% of revenues that rural transit agencies must recoup from passengers. A 10% increase in transit revenues is projected into the future (25-30 year plans). A one-way ticket will increase from the current price of $1.50 to $2. The day pass fee will increase from the current $4 up to $5. The monthly fee will increase from the current $50 to $60. Fare changes are limited to general public services and will not affect Dial-a-ride or those who qualify for discounted rates.
Speakers at today's ribbon cutting included Grossi, Summersett, Transportation Council Chair Mike Ayala, and Board of Supervisors Chairman Sherri Brennan.
The transit center does not have an effect on YARTS, the Yosemite Area Regional Transportation Service which has four routes; one route covers from Tuolumne to Sonora, Jamestown, and Groveland to take visitors to the park.