Transit Fares Will Increase In Tuolumne County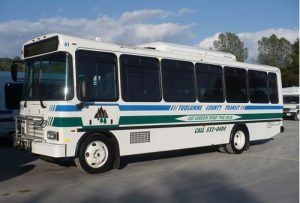 Tuolumne County Transit

View Photos
Sonora, CA — The Tuolumne County Transit Agency is moving forward with planned fare increases that will take effect in early 2017.
In an update to an earlier story, Transportation Planner Tyler Summersett says the change will come around March or April, so that it will be in correlation with the opening of the new transit center under construction at the county's law and justice center property. New revised routes will also take effect when the transit center goes online.
The fare increases are to ensure that Tuolumne County Transit receives the state mandated 10% of revenues that transit agencies must recoup from passengers.
For example, with the change, a one-way ticket will increase from the current price of $1.50 to $2. The day pass fee will increase from the current $4 up to $5. The monthly fee will increase from the current $50 to $60. Discounted monthly fees (ADA/Medicare/Students/Vets) will go from $36 to $40.
Summersett says the county's Transit Agency approved the increase on a unanimous vote after hearing little input from the community during a public hearing.