Money From Gas Tax Increase Legislation To Fund Local Projects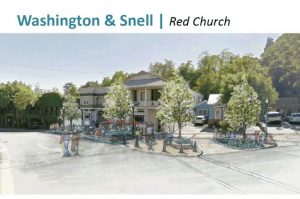 Vision Sonora Draft

View Photos
Sonora, CA — The California Transportation Commission (CTC) has released a list of projects approved for funding from revenues via the recently approved SB 1 transportation package, which includes increases to things like vehicle licensing fees and the gas tax.
CTC announced yesterday it is committing $117-million to 63 active transportation projects in California. It includes $722,000 for the Red Church Pedestrian and Circulation improvement Project planned for Sonora. The project is part of the Vision Sonora plan and is designed to improve traffic circulation, and walking space, near the intersection of Washington and Snell streets. It also includes adding a small park-like area. The CTC notes that the total project cost is estimated to be $815,000.
In addition, $1,985,000 is committed to constructing sidewalks and bike lanes along Highway 49 through the City of Angels Camp. The state's allocation is expected to cover the entire project.
The CTC estimates that SB 1 will generate $5.4 billion of additional transportation revenue, annually.