No Front Plate Netted Drug Bust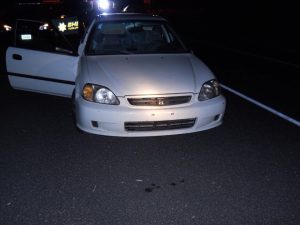 Car involved in traffic stop and arrest on Mono Way

View Photos
East Sonora, CA – A keen eyed deputy and a k9 played tag team on a drug bust.
Tuolumne County Sheriff's officials report that just before midnight on Thursday Deputy Vince Lee spotted a Honda Civic with no front license plate and no lighted rear plate. He made a traffic stop on Mono Way at Cavalieri Road in East Sonora. While the deputy was issuing a citation a k9 unit pulled up.
K9 Hans did a sniff sweep outside of the car and got a hit. A search inside the vehicle revealed heroin, methamphetamine, and drug use paraphernalia. Sheriff's officials indicate that 26-year-old Joseph Zumwalt admitted that the drugs were his and he was taken into custody.
Zumwalt was booked into the Tuolumne County Jail for drug possession and possession of drug paraphernalia.