Forest Lifts Some Fire Restrictions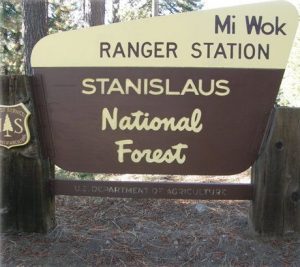 Mi-Wok Ranger Station - Stanislaus National Forest

View Photos
Sonora, CA – The Stanislaus National Forest has ended its temporary fire restrictions in moderate hazard areas.
The ban, which was implemented at the end of August, was lifted Tuesday, according to forest spokesperson Diana Fredlund. Regarding whether it is a good time to terminate the ban with so many fires burning in Northern California, Fredlund responded, "It's a good question. The primary answer is terrain; elevation is really key and then the moisture conditions. All of those factors come into making up fire risk." She adds, "Elevation is probably the most important one because if the clouds are high enough up, they can bring a lot of snow or moisture. It's just a real different set of circumstances from what is occurring at sea-level and what's happening up here."
A campfire permit is still required for those camping outside of developed campgrounds. Fire restrictions remain in the High Hazard Areas. A map of both the moderate and high areas can be viewed here.
Of note, Fredlund adds that two forest service engines left today to assist in fighting fires in Sonoma County.