Update: Big Oak Flat Homicide Investigation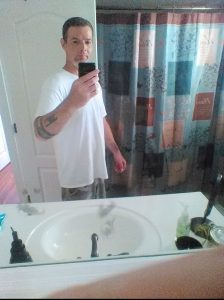 Elton Redick

View Photos
Update at 3:22 p.m.: The Tuolumne County Sheriff's Office is now seeking a man by the name of Christopher Reed as a person of interest relating to a suspected homicide this morning in Big Oak Flat.
According to sheriff's spokesperson Sgt. Andrea Benson, Reed, who is also known to use the alias of "Elton," may have information regarding the death, which occurred on a property located along Black Road.
Reed is described as 6'2″ tall; 180 to 190 pounds; with graying hair and a goatee. Last seen wearing a white shirt, black and gray camouflage shorts and black flip flops, he bears distinguishing marks of a tribal-style tattoo that wraps around his forearm as well as a number tattoo on the inner part of his calf. Anyone who sees him or knows of his whereabouts should not confront him but contact the sheriff's office at 209 533-5815. A clear image of Reed can be viewed in the image box slideshow.
Update at 2:40 p.m.: Tuolumne County sheriff's officials are still keeping largely mum over a reported "suspected homicide" this morning in Big Oak Flat along Black Road.
Spokesperson Sgt. Andrea Benson says that detectives are conducting interviews and will be processing the scene, which means units will be busy at the property for awhile to come. She adds only that no arrests have yet been made as evidence is being evaluated to help determine a suspect.
Original Post at 12:34 p.m.: Big Oak Flat, CA — Very limited information is currently available, but the Tuolumne County Sheriff's Office is investigating a "suspected homicide" in Big Oak Flat.
Sheriff's Office spokesperson, Sgt. Andrea Benson says that deputies are currently at a residence along Black Road. One adult male is confirmed dead. We'll pass along more information when it becomes available.