Over 500 Pot Plants Seized In Railroad Flat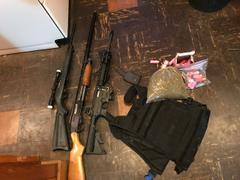 Guns found at drug raid site

View Photos
Railroad Flat, CA — A search warrant on the 400 block of Ridge Road in Railroad Flat netted four arrests, hundreds of pot plants and a set of body armor.
The Calaveras County Sheriff's Office Marijuana Enforcement Team raided the property around 9 a.m. today after investigators had earlier identified several hundred marijuana plants growing there. The lot was not registered as a commercial medical cannabis cultivation site with the Calaveras County Planning Department, according to sheriff's officials.
Four subjects, all from the Sacramento area, were arrested during the bust for illegal cultivation of marijuana and criminal conspiracy. They are 51-year-old Somporn Vannasing, 24-year-old Joshua Arduini, 25-year-old Leon Keo, and 20-year-old Thongdee Phuangtan. Phuangtan faced further charges for being a felon in possession of a firearm and ammunition.
Seized in the search were four guns, miscellaneous ammunition, and a set of body armor. Additionally, 503 marijuana plants and nearly 95 pounds of processed marijuana were destroyed.