Millions Endowed To Columbia College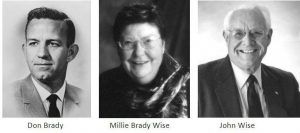 Wise Family Charitable Trust Founders

View Photos
Columbia, CA – The Columbia College Foundation has received the largest contribution in its history from a local family.
Dr. Angela Fairchilds, Columbia College President, was Friday's KVML "Newsmaker of the Day".
The Wise Family Charitable Trust is donating a $2 million endowment gift bringing this reaction from Columbia College President Dr. Angela Fairchilds, "It is the dream of every college president to be on the receiving end of such generosity and support for the institution.  Some 50 years ago, the Brady and Wise families were instrumental in creating the vision for Columbia College as a vibrant center of learning in the Sierra foothills and their ongoing support has helped make that vision a reality".
The gift culminates decades of support from the Brady and Wise families, according to foundation officials who share that in an agreement with the family, the endowment will remain invested and the proceeds will provide ongoing annual support for these programs:
The Promise Scholarship Program, which will provide one year tuition free for local high school graduates who attend Columbia College fulltime immediately after high school. This new scholarship program will launch in the fall of 2018 as a three-year pilot. The endowment will ensure long-term viability for the program by covering more than a third of the expected annual scholarships.
The Mini Grant Program, which was launched with the support of the Wise Family Trust in 2011, has been providing campus grants for faculty, student groups and campus improvements every semester since its inception.  The endowment will provide full funding for this program on an annual basis.
President of the Columbia College Foundation Colette Such gleefully adds, "This latest gift, which has set in motion the promise of education to our graduating high school seniors, is beyond measure. This gift brings the potential of altering the lives of our students and our community for generations to come. The Foundation is truly honored to be entrusted with this legacy." She adds that the family will be honored next fall as part of Columbia College's 50th Anniversary in special ceremonies including the dedication of the Library Plaza.
The Wise Family Charitable Trust was established in 2005 and was closed in July with a final distribution of stock.  Lynne Jerome, daughter of one of the founders of the trust and a Tuolumne resident notes, "It's incredibly fitting that the remainder of the trust goes to the college and these projects. I am very pleased."
The "Newsmaker of the Day" is heard every weekday morning at 6:45, 7:45 and 8:45 on AM 1450 and FM 102.7 KVML.