Update: Sonora High Trustees Address Coaching Deficits, Property Surpluses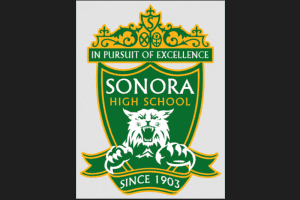 Sonora High School logo

View Photos
Update at 10:55am: Due to a lack of quorum, Sonora High School Superintendent Patrick Chabot reports that tonight's school board meeting has been cancelled. Too many school board members have personal commitments out of town, prompting the need to cancel the meeting.
Original story posted at 3:15pm 9-1-18-17: Sonora, CA – A local high school district that found itself three varsity boys' coaches short may be at least partially remedying that situation among other predicaments tomorrow.
At the top of the Sonora Union High School District Trustees' action items list at Tuesday night's meeting will be to consider Lloyd Longeway for the Sonora Wildcats Varsity Boys' Basketball Coach. Longeway, once a health teacher at the school, previously served as a JV basketball coach there. He has also coached a traveling Sierra Foothills team and served as an assistant men's basketball coach at Columbia College.
As reported here, District Supervisor Pat Chabot shared with Clarke Broadcasting that in addition to that position, the district recently issued job postings for new varsity level coaches for baseball and soccer. This follows what he described as coincidental resignation decisions made by the three former coaches last school year to spend more time with their families. Chabot, in a separate interview with Clarke Broadcasting, additionally indicated that the district might also be getting close to securing the baseball coach position.
Seeking 'Re-purposing' For The Dome
In other business, the board will consider accepting recommendations from an advisory committee it appointed back in June to look into ways of best dealing with the district-owned historic Dome building above downtown Sonora and its 130-plus-acre Wildcat Ranch, home to school agriculture programs recently cut back due to budget issues.
As reported here, the committee's activities included hearing presentations from interested groups with proposals for utilizing portions of the ranch property. Chabot maintains that the district is looking to retain portions of the two properties for continued school use.
The advisory committee, which met last week, signaled that its nonbinding recommendations would be to declare the Dome property as surplus. This could potentially clear the way to parcel off and sell the Dome building as surplus. The group plans to recommend keeping the ranch property.
The meeting begins at 6 p.m. in the first floor conference room (100 School St.).