Committee Nearing Recommendation On Dome And Ranch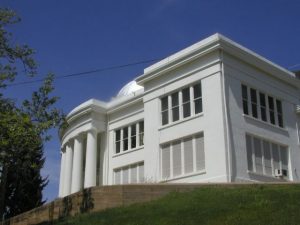 Sonora Dome

View Photos
Sonora, CA — The committee looking at options for Sonora High School's historic dome property, and Wildcat Ranch, is planning to hold its final meeting this week.
It will mark the fifth time the committee has met since July. The group will make a recommendation on whether the district should sell or lease all, or portions of, the historic dome property on Barretta Street and the 137 acre Wildcat Ranch at the intersection of Tuolumne Road and Wards Ferry Road. Or, the committee could recommend simply keeping the properties.
Superintendent Patrick Chabot says he and the district's board of trustees prefer to keep at least portions of the two properties, such as the alternative education campus next to the dome, and sections of the Wildcat Ranch.
The committee's recommendation this week will be non-binding, and the final decision will be made at an upcoming board of trustees meeting.
Two groups have come before the committee in recent weeks voicing proposals for specifically the Wildcat Ranch. They include the Park Foundation, which would like to use around 100 acres for sports fields and recreational opportunities, and Project Feed Our Kids, which proposes to utilize the entire site for vocational education type programs.
Regarding the dome property, no formal proposals have been made, but Chabot notes that there have been inquiries regarding the building.
The committee is not necessarily expected to endorse a specific proposal (Park Foundation or Project Feed Our Kids) at Thursday's meeting, according to Chabot, but simply recommend whether leasing or selling is the right move.
Thursday's committee meeting is open to the public. It will begin at 7pm in the district's conference room, FL-1.